Karuhat 1993 Vintage Replica Shorts – Lamnamoon Fight

Replica Karuhat's famous pink shorts, he wore at Lumpini Stadium in the Golden Age of Muay Thai fighting. Watch the loved Lamnamoon fight here. These shorts were designed with the personal help of Karuhat, who kept them as close to the photos and his memory. 100% of the net profits go to Karuhat himself. Note: These currently are taking 10-12 weeks to make and be shipped.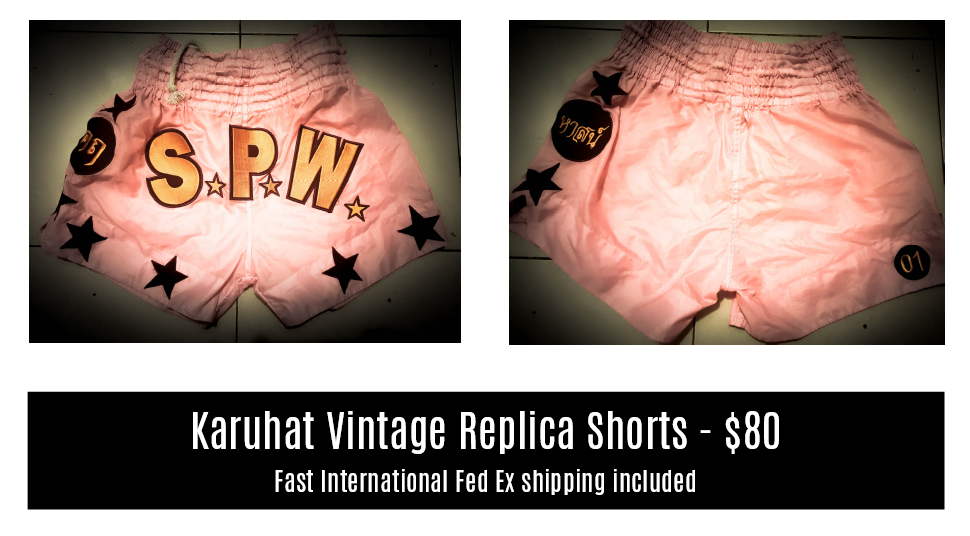 click the photo above to shop, or click here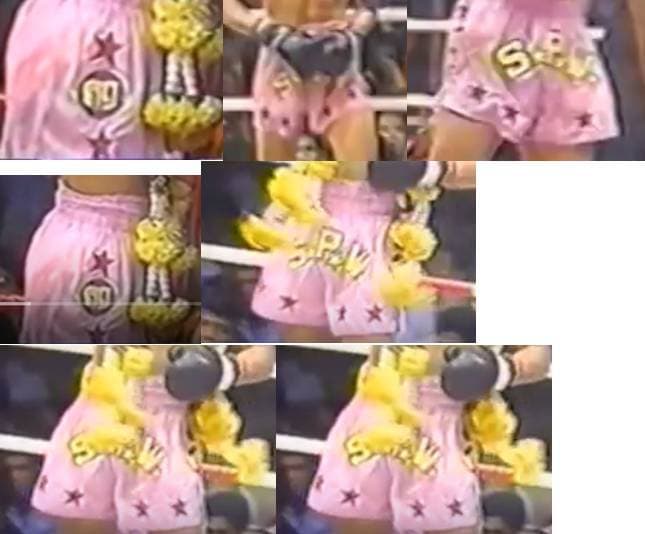 above are screenshots we used to reconstruct the shorts. The S.P.W. initials are for his fighting gym name "Sor. Supawan". The circles on the sides of the shorts say "Karu" and "hat" respectively.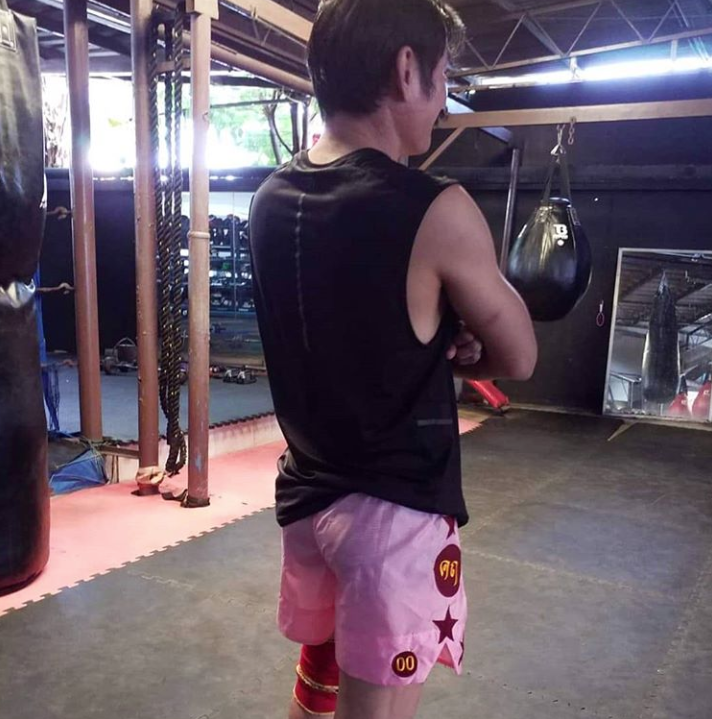 You can see closer to the true color of the shorts above, Karuhat wearing them. You can also see them in this Instagram video clip.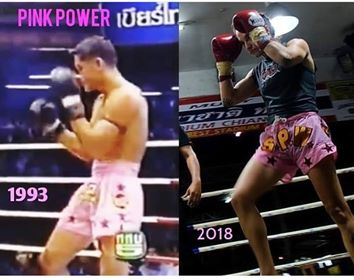 above, I LOVE my Karuhat shorts, and have already fought in them.

From the sale of my shorts below the net profits go to my Kru Fund, which is to be distributed to all the fighters and krus documented in my Muay Thai Library Preserve the Legacy project, or in the case of specific fighter shirts, directly to the fighter themselves.
Sylvie 200 Fights Shorts – Black on Black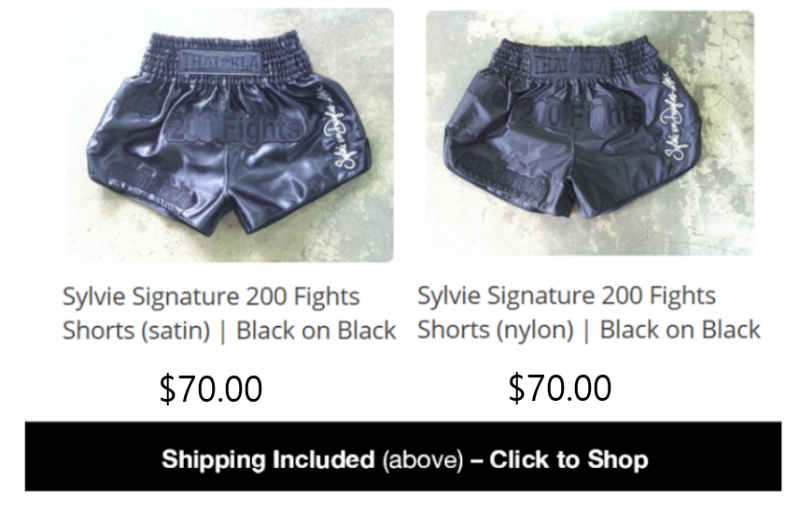 Shop the Sylvie Signature Fight Shorts here
all net profits go to my Kru Fund, directed toward the krus & ex-fighters in the Muay Thai Library
These shorts celebrate the achievement of 200 fights, the black and black design in respect to the passing of King Rama IX who was being buried in the month of these short's release (October, 2017). All net profits go to the krus & ex-fighters I'm documenting. You can see what they look like here:
The Muay Khao Summit Shirts – Two Designs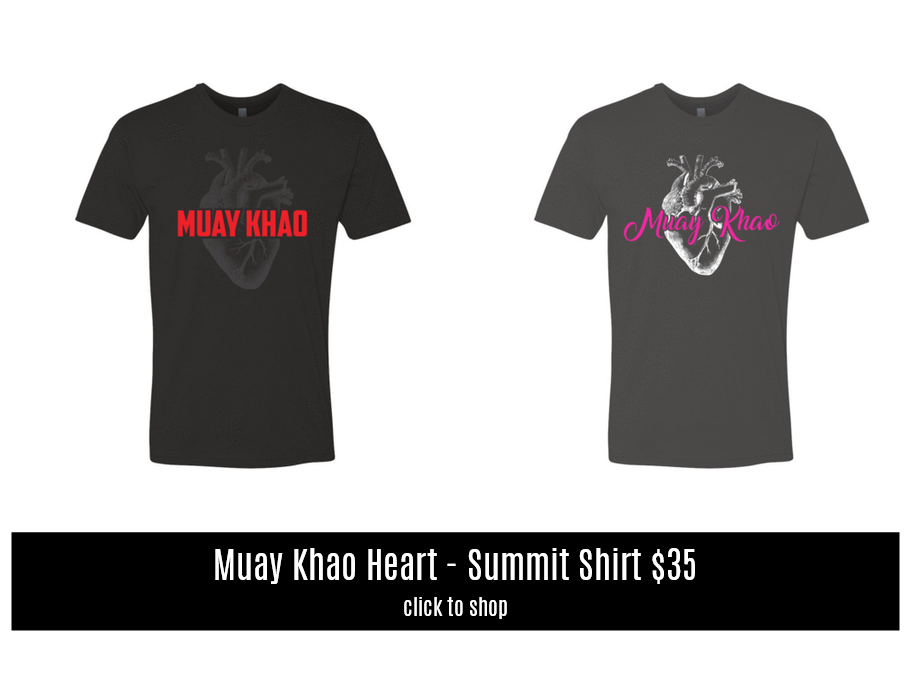 or click here to shop – 100% of the net profits go to the Thai female champions and legends that were part of the 2018 Muay Khao Summit
Join and Support the Muay Thai Library Documentary Project
A suggested pledge of $5 give you access to a wealth of knowledge and study material, and fuels the continuation of the Preserve the Legacy project to document the great techniques and men of Thailand. Nearly 30 hours of film already published, with two hours with great fighters, legends and krus added each month. Read about the Library here.