A serious thank you has to go to the people who have gathered around my fighting and writing and made signficant things possible. When I decided to move to Thailand I had been blogging and sharing video of my training for some time, but it seemed like a important opportunity to expand my efforts and really try to share as much as possible from my experiences as a western female fighter in Thailand. At the time there were no fully devoted blogging voices from female Muay Thai fighters, and if I could be that I felt it would help other women imagine what it is like to come and train/fight full time, as well as hopefully inspire women to blog their own experiences.
Funding 8limbs.us
I turned to my family, friends and my readers and asked them to help with a Kickstarter for a website. My friend Deep Soni would donate his services at a discounted rate, artist Alexis Marcou would donate his artwork, and with any luck there would be a new digital home for my writing. 29 people responded generously and raised far beyond the goal of $800. Thus was the birth of this site: 8limbs.us.
These are some of the public donors who helped produce 8limbs.us
James Palmer, Jairo David Avila, Stephen Noton, Patti & Steve Gassaway, Sid & Darlene Trapp, Beth Klenk, Augie Matias, Michael Meyer, Trip Maddock, Bryan James, Maya Long, Robyn Klenk, Gilbert King, Patrik Edqvist, Javier Rosario, Kelly Sulimay, Elspeth Shell-Moyer, Yoshiaki Kawatsura, Megan Angelini, and many more.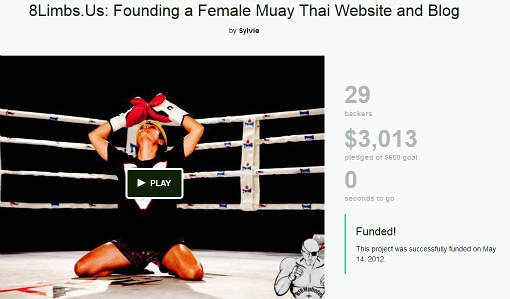 Not only has this helped me produce the site, it has helped me maintain the site, and cover technical and real costs associated with bringing video and social sharing in as timely a manner as possible. It has made 8limbs.us what it is, something far beyond what I imagined at the time.
Getting to 100 Fights
As I pursued my improvement as a fighter I came to realize that fighting as frequently as I could was a major component of my growth. I came to serious Muay Thai relatively late in life (24), and did not have the foundation of martial arts as a kid or as a teen, that really can stabilize your learning. I had to fight, and fight often. And the more I fought, the more I discovered and learned about the art. Soon I was fighting at a very high rate, and I took aim at 100 in the country, something that seemed like an impossible goal.
These are the very generous people who helped me with the expenses get to fights all over Thailand so I could maintain a high fight rate:
Minu Oh, Lisa Hearting, Wing Wong, Thomas Palmer, Andy Evangeli, Nell Geiser, Dustin Grant, Robyn Klenk, Pixi Pickthall, Khanomtom Muay Thai Tampa Fl, Karen Rihanna Lim, Adrienn Neset, Michael Regala, Dana Hoey, Rachel Knox, Augie Matias, Beth Klenk, Taryn Laramie, Hannah Edmunds, Eh Pawinah
Will KBRN UK, Cormac O'Síocháin, P-A Guillon, Andrew Viloria, Michael Ashe, Joe Miller, Meagan Brooks, Kurosch Saremi, Tony Le, Matt McCartney, Jeff Mazziotta, cynthiakoala, Walter Gouws, Michael Satumbaga, Tai Krueger, Christopher Chiu, Charlotte Stone, Matt Doerflinger, Jenny Prowse, Andrew Dearnley, Lisa Hedden, Mindy Cunningham, Matt Lucas, Michelle Garraway, Alice Friedman, Michael Meyer, Trini C, Dana Castillo, James Douglas, Richard Hart, Will Weisser, Radhika K, Holli Moncrieff, Rosy Hayward, Khanomtom Muay Thai, Alexander Cunningham, Jeanette Yap, Belinda Miller, Jillian Bosserdet, Kate Simmons, jay c, Marie Porter, Cory Fundme, Eddie Garcia, Peter Le-baigue, Jen Gaines, Ben Passmore, Jessica Schulte, Maribel Estades, Shannon Schierling
and 43 additional sponsors who wished to remain anonymous.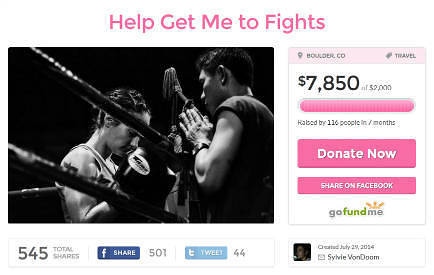 You can read about the accomplishments and philosophy behind this crowdfunding to help me fight here: My Go Fund Me Update: What Was Accomplished. There is no doubt that without my family, friends and readers I simply would not have been able to fight like this. It is they who made this possible.
The website 8limbs.us and my fight path has been something of a barn raising event from the beginning, when unknowingly I began sharing my training on YouTube just so others could share in the knowledge and person of Master K. The donations haven't only, or even been primarily financial. They have been emotional connections, people who have been with me on this incredible journey to become a better fighter, and to inspire other women to be better themselves. I'm going onward and upward. Now having fought more in Thailand than any western woman, having had the privilege of those experiences, I feel I'm on the cusp of new potential as a fighter, facing tougher opponents, and the challenge of sharing more of my thoughts and experiences. Thank you to everyone who cares to be a part of it all.
I'm now taking rough aim at an almost inconceivable 200 fights in Thailand, which would require another three years in the country, and becoming not only the best female fighter in Thailand at my weight (46 kg), possibly the best at weight classes above me (48 kg, 50 kg) which are mostly those that I fight on a regular basis. It's a huge ambition in a country filled with extremely talented and experienced fighters, the very Motherland of Muay Thai, but if I get anywhere near 200 fights I believe I can get there.
In this journey 8limbs.us itself should grow and open doors to the female Muay Thai conversation that are new and inspiring. Emma Thomas and I launched the Roundtable forum which includes the first Women Only Muay Thai conversation space on the Internet, and I'm pushing for new ground for 8limbs.us blogging and shares all the time – I want to push the line of what is possible for all of us. I don't know what the next few years will bring, but it should be exciting. None of this would be without you, all of you who have reached out to me.
The Start of Patreon – 2015
At the end of 2015 I came to a place where I just needed help to continue my 8limb.us Muay Thai writing, it would not continue without aid. So I turned to my readers and asked that they consider sponsoring me and 8limbs.us with monthly pledges. The response has been very moving, and I'm getting closer to making 8limbs.us sustainable. If you value my writing and would consider pledging a small amount each month, visit my Patreon page and take a look. You can read more about my reasons for turning to Patreon here.
This site is currently being supported through Patreon. These are my supporters who have pledged $5 or more. A huge thank you to you.
Rickie Solinger, Jason Becker, John Cooper, Yeun Thong, Walter Gouws, Lisa Dawn, Sky Sithbunkerd, bbf3 ,Hannah Edmunds, Michelle Nicole, Michael , Shannon , Sergio Lopez, dana hoey, Troy white, Zachary Chumley, Nell Geiser, Beth Klenk, Patricia Gassaway, Steve Gassaway, John Gassaway, Sandi Shell, Cåbell Semla, Alex Wall, Prin Amorapanth, Shadwrath , Haydn "The KickBoxing Monkey" Hadley, Zaki , JD , Kate Allen, Richard Harrell, Andréa Rules, Jake Burke, Adim Ahumada-Fuentes, Funk Roberts, Robert Verdell, Darren Sullivan, Victor Miguel Fernández, Randall Breneman, Lobo11 , Augie Matias, Muay Thai Ontario, Carly Onofrio, Stephen Yeung, Andrew Viloria, Magnus Jonsson, Patrick Bozeman, Nyxi Ires, Tayler Fluharty, Ling Bah Nick DC, daniel Kearney, Michael Staples, Paul Penna, Sævar Ingi Rúnarsson, Charlotte Stone, Mary Bee, Matt Richards, Gabriel M Gassaway, Gaby Rodriguez, Z, Onyx MMA, Nak Muay Nation, Merrell Hora, Xian Wang, Will Stevens, Thai MacDonald

and 15 more supporters who wish to remain anonymous
you can send Bitcoin donations here: 1BhaVE4A1uBTPnw5V6TWtGnHRT5E41cHSF